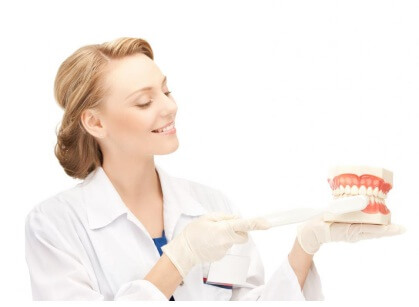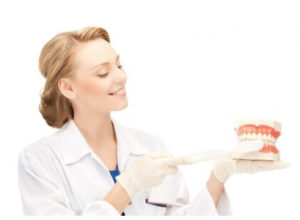 The contemporary solution to missing teeth replacement, All-on-4 dental implants are known for their natural look and high functionality.
They seem to blend in perfectly well with your natural set of teeth without the hassle of lengthy treatment times and painful recovery.
However, for a dental implant to be successful in the long run, it is important that you maintain proper hygiene.
Taking extra care to maintain your teeth after a dental implant surgery is important to ensure its longevity. Apart from your daily oral habits, make sure you opt for professional cleaning at least 2–3 times a year.
Caring For Them, Post-Surgery
The post-surgery period is a time for exercising extreme care. This is central to the healing process; even the slight discrepancy can hinder the speed and effectiveness of recovery.  Your dentist is most likely to recommend the following:
Treating the affected area with a cold compress or taking a pain killer to alleviate pain.
Increase your fluid intake. Approximately 8 glasses of water, or fruit juices as a healthy alternative.
Get proper rest and avoid vigorous exercise or stress buildup for at least 2–3 days after the procedure.
Using a mouth rinse or antibiotics to prevent infection or any other complications in the critical post-surgery time.
Keeping your head elevated for the first week aids in recovery.
Cleaning Your Implanted-Supported Teeth
Your implant-supported teeth demand equal attention as your natural teeth. This is because they are equally susceptible to bacteria build-up and infection as real teeth.
Maintain a proper cleaning regimen after every meal, be it sugary or spicy. This will not only help to keep your prosthetic teeth clean but also develop good oral hygiene.
For this purpose, dental instruments and especially designed brushes are available.
These are designed specifically to cater to the sensitive nature of implanted teeth.
They also help make cleaning easier in non-accessible areas and make sure no part of your teeth is left unattended.
Some examples of these special brushes include gentle interdental brushes and angled brush heads. They are made of soft bristles that make sure they do not harm the surface of the implanted teeth.
Coupled with flossing, the crevices between your implanted teeth can be kept free from plaque.
Periodic Dental Check-ups and Cleans
Nothing can compare to regular visits to the dentist. Equipped with the right knowledge, expertise and technology, the dentists at Smile Magic Dentistry make sure to give you the right care, post-surgery.
Cleaning sessions and a physical examination by experts is necessary to prevent complications. The dentists can help you get rid of tartar and plaque that normal brushing and flossing wouldn't remove.
To find out how our dental implant treatment and solutions can restore that charm to your smile, simply call our clinic in Orange County at (714) 974-4332 or (949) 650-0222.